Thousands of festival goers were meant to be heading to the likes of Glastonbury and many other big summer music events at this time. With many of us feeling so disappointed with the cancelations, it has inspired lots of music fans to create their very own mini festival from the comfort of their own homes! According to John Lewis, sales of items such as outdoor rugs, beanbags, fairy lights and portable speakers have rocketed as Britons prepare to put on their own music festivals this summer, If you fancy hosting your very own little garden event then here are some brilliant ideas to help bring in the festival vibe. Plus, you will reap the benefits of no toilet queues, no losing your friends and a proper shower! Here are some great suggestions to help create your very own mini 'Worthy Farm'.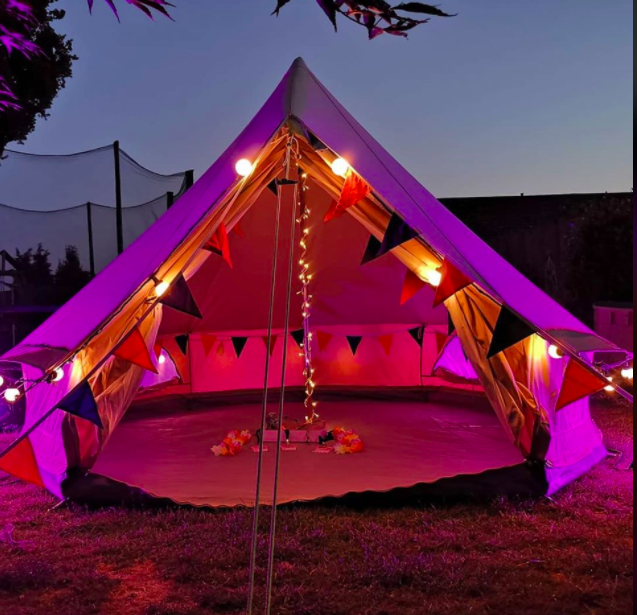 A festival is not the same without a tipi. It doesn't have to be a huge structure to host  a crowd of revellers, but a small one filled with fairy lights and pretty cushions is the perfect summer party piece. There are some beautiful tipis to
hire for parties
with funky lighting to rent alongside. Create some awesome experiences in your very own garden and for any occasion, with Boho, chill and even G&T, pamper and tea tents (complete with bar, robe and slippers and vintage china sets!).
You could also buy a second hand tipi, or if you're feeling adventurous, create your own with some old blankets and bed sheets; or use some colourful ribbona to create a stunning open air version!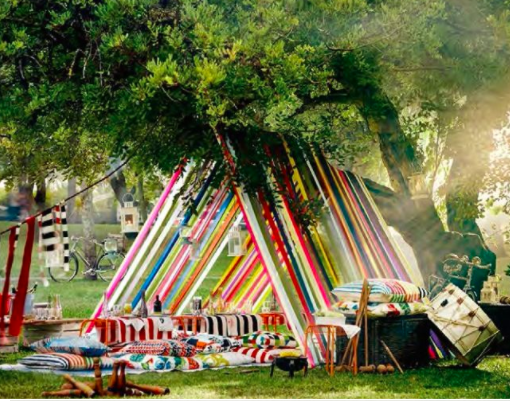 'Live stream' your favourite artists…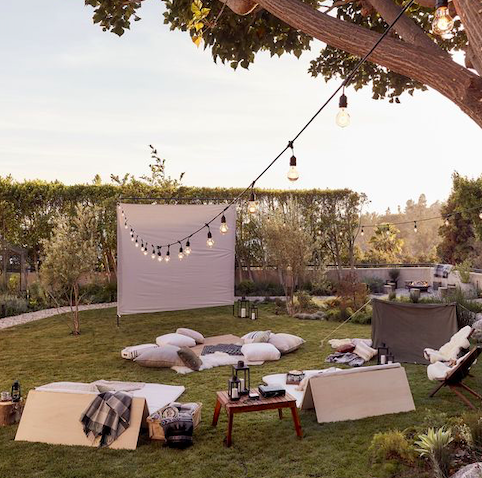 Mimic the 'main stage' with a projector or big screen in your garden and choose your very own main acts. Channels like the BBC have recorded some of Glastonbury's most iconic headline performances such as Coldplay, Adele, Beyonce and David Bowie, and many more are available to watch on Youtube or Iplayer!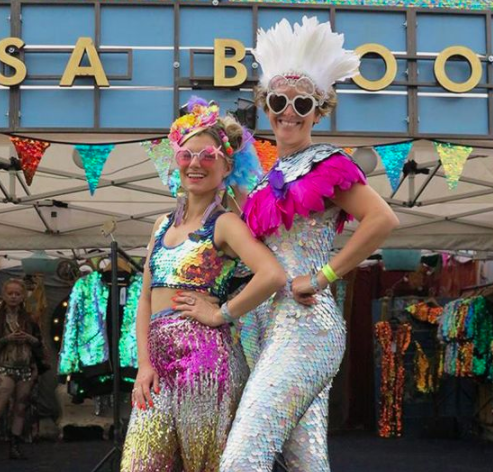 Create a mini 'dress up' stand with a selection of vibrant festival
outfits and accessories
for people to try on. Create a 'dress-code' for your guests to add some extra fun!
If you are inviting people round to join your 'garden festival' remember to observe social disctancing rules. Currently up to six people from different households can meet outdoors, including private gardens. But it's worth checking the latest update on the gov.uk website.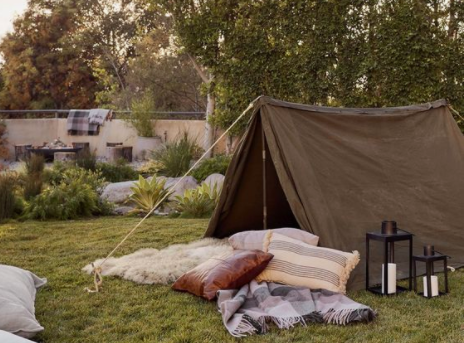 Pitch a
tent
and camp outside. How about adding some luxury for a comfier sleep? Use a blow up mattress or carry one in from inside, add some cushions and even some fairy lights for a cozy feel.
Create a mini drinks shack..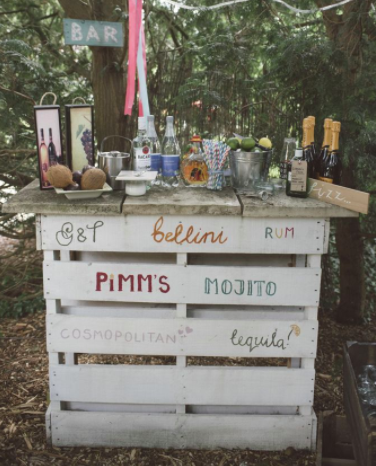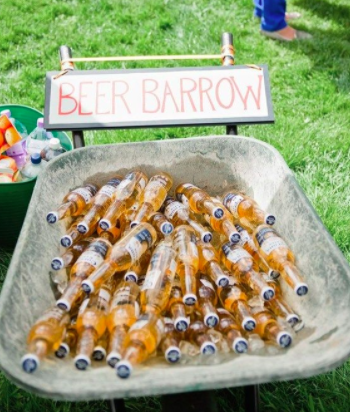 Impress everyone with a mini DIY cocktail bar. You could get really creative by constructing your own bar with old pallets. 
You could use
upcycled items
too or simply balance a wooden table top on top of some barrels or bricks. Add in some
high stools
for a proper bar feel. If you're lacking space for a bar, just fill up some buckets or a wheelbarrow as a giant ice bucket. Make sure there's PLENTY of drinks, lemons, limes and ice. Don't forget the mint too!
Add some wooden signs to give it that festival vibe…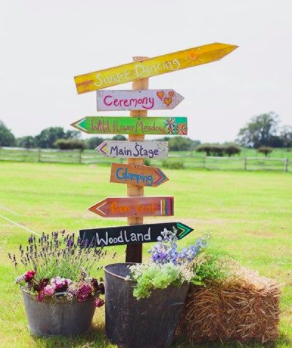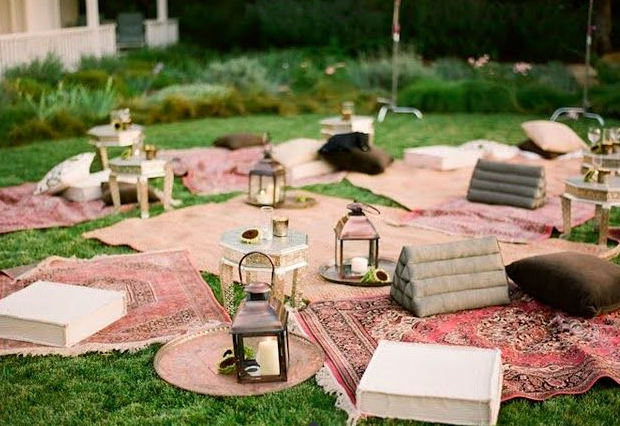 Create a simple bohemian style arrangement with some
old rugs
or carpets, then throw in some beanbags and cushions for seating.
The festival 'food stands'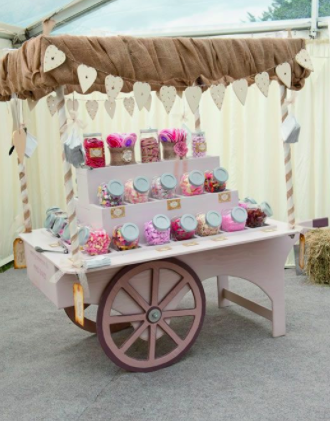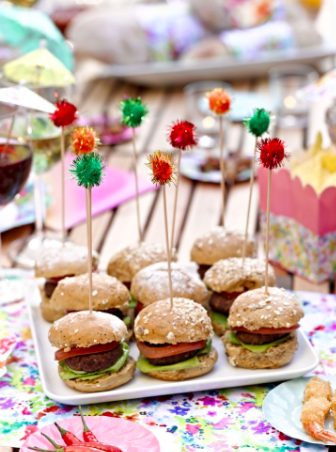 We recommend keeping it simple for your garden party, you dont want to spend more time cooking than dancing under the stars! Hotdog and burger vans are the first things that spring to mind when you think of a festival so why not remind everyone of those classic festival food stops, serve up some tasty finger food! Take inspiration from the huge selection of food stalls available and create your very own mini selection offering delights such as mini burgers, skewers, corn on the cob, jacket potatoes. To make up for not having an ice cream stand, you could make your very own ice cream 'stall' with some sweet treats on hand..
The all important lighting…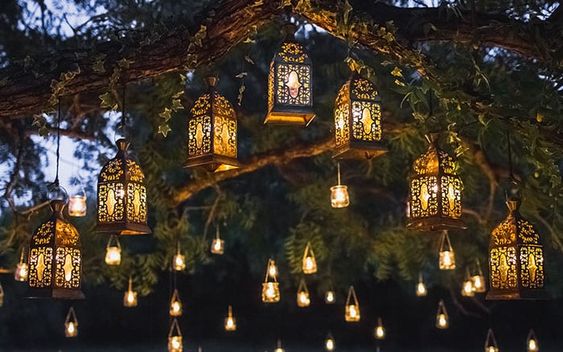 Get the lighting right! The instant way to get that festival feeling in your garden is using pretty lighting. To give it even more of a wow factor invest in some outdoor lighting like candles, 
lanterns, torches or bulb lights, even a fire pit to keep the festival-feeling alive after the sun sets.
You could also bring some indoor lights outside, like quirky standing or table lamps to provide some 'boho' lighting effects – but make sure it's dry and safe! Find some hidden gems and inspiration among these second hand lighting offers.
Looking for outdoor items?
Images sourced:
https://www.pinterest.co.uk/pin/167407311123915032/
https://www.pinterest.co.uk/pin/AZ3EJeIWqTY5Q8z9e_naQq-D8Rck8PHxZJnai8KvQxc37urynrMCebk/
https://www.pinterest.co.uk/pin/819021882219136103/ 
https://www.pinterest.co.uk/pin/419749627772727061/ 
https://www.pinterest.co.uk/pin/469148486177471182/
https://www.pinterest.co.uk/pin/328551735318832229/ 
https://www.pinterest.co.uk/pin/452752568773388897/ 
https://www.pinterest.co.uk/pin/115897390384841482/
https://www.pinterest.co.uk/pin/238339005256512652/
https://www.pinterest.co.uk/pin/684476843353154349/ 
https://www.pinterest.co.uk/pin/389491067746522929/
https://www.pinterest.co.uk/pin/567805465489900518/
https://www.pinterest.co.uk/pin/Aa18XeI8fgznGltmd0JwazHrRP5Oag-sd7rbsvwauYa_ItwOBEybrac/