As the latter half of October creeps in, the Isle of Wight gears up for a month of spooktacular celebrations. 2023 promises to be a Halloween season like no other on the island, with a wide array of events and activities to tickle your spine and spark your creativity. Whether you're a local or planning a visit, you're in for a thrilling Halloween experience. Join us as we explore the most exciting Halloween events happening in the Isle of Wight this year.
Carisbrooke Castle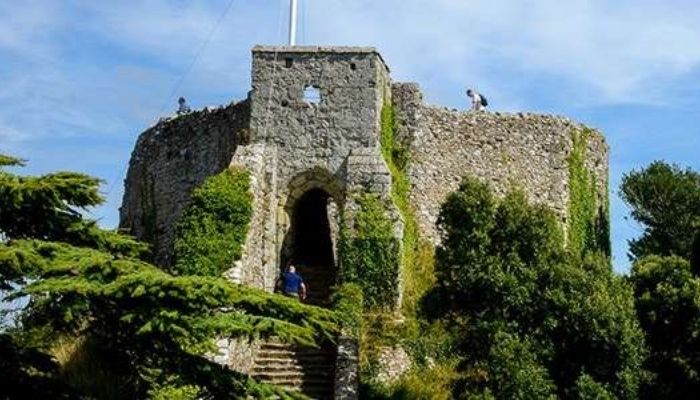 This Halloween season, Carisbrooke Castle on the Isle of Wight invites you to grab your broomsticks and prepare for a day out like no other. From Saturday, October 21st, to Sunday, November 5th, the castle is transformed into a bewitchingly brilliant haven of spooky delights that will enchant visitors of all ages.
Gather round and be prepared to be spellbound by the tales spun by Carisbrooke Castle's spooky storytellers. These stories are sure to send shivers down your spine as you lose yourself in the world of ghouls and ghosts. These eerie narratives add a layer of mystery to the historic setting.
Follow the Victorian Mediums as they draw back the veil to the spirit world. These mystical guides will take you on a journey to explore the supernatural and communicate with the other side, creating an atmosphere of intrigue and wonder.
Venture into the Graveyard of the Unfortunate and discover the stories of those who met their fate in the most unfortunate ways. This historical glimpse into the lives of individuals who entered the realm of Death will leave you both enlightened and slightly spooked.
These experiences are not just for adults. Your little monsters will be delighted by kid-friendly tales that will make them both giggle and gasp. All of this unfolds against the backdrop of the eerily captivating Carisbrooke Castle.
From October 21st to November 5th, don't miss the chance to partake in a Halloween quest within the castle. Your mission? Discover magical potion ingredients and embark on a journey to become a wonderfully wicked witch's apprentice. Engage with the activities and solve the creepy clues in the provided booklet, creating memories that will last a lifetime.
Don't miss the chance to immerse yourself in this bewitching world – it's a treat that's not to be missed!
Spooktacular Entertainment at Shanklin Chine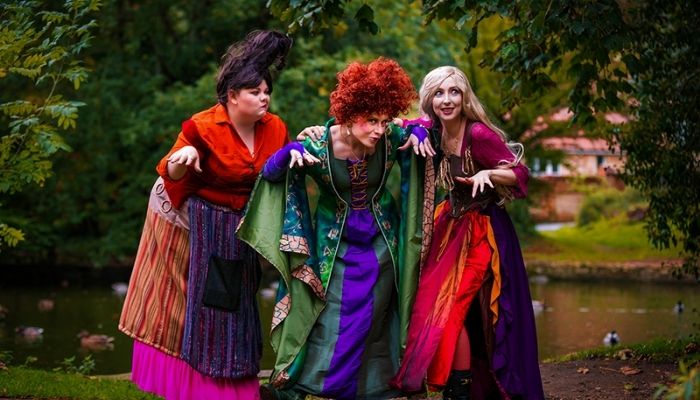 The Isle of Wight's Shanklin Chine is known for its natural beauty and tranquillity, but when the Halloween season comes around, it transforms into a realm of spooky delight. From October 13th to November 4th, 2023, Shanklin Chine's Halloween Spooktacular is back, promising new thrills and chills for families seeking a wickedly good time.
This year, mingle with some of your favourite spooky characters from Enchanted Isle. Whether you're a fan of the Sanderson Sisters from "Hocus Pocus" or the macabre Addams Family featuring Wednesday, Morticia, and Gomez, you're in for a treat. Giant laughing clowns might make you shiver or giggle while living dead mummies add to the eerie atmosphere. Don't forget to stand inside the ginormous Chine pumpkin and revisit the original spooky gang that keeps the Halloween spirit alive.
For those who crave adventure, follow the spooky trail guides that will lead you through the Chine's mysterious paths. Keep an eye out for hidden surprises and maybe even a ghost or two. It's a fun and engaging way to explore this enchanting place.
When your little monsters' tummies start to rumble like demons, make your way to the terrifying tearooms. They'll be serving up ghoulish treats from the monster mash menu. These delectable delights are sure to put a smile on your face and add to the Halloween atmosphere.
Shanklin Chine positively encourages you to bring your children in full Halloween costume. Dressing up adds to the festive ambience and makes the event even more memorable. Plus, you'll fit right in with all the other ghouls, witches, and monsters wandering the Chine.
Halloween at the IOW Donkey Sanctuary: Spooky Fun Awaits!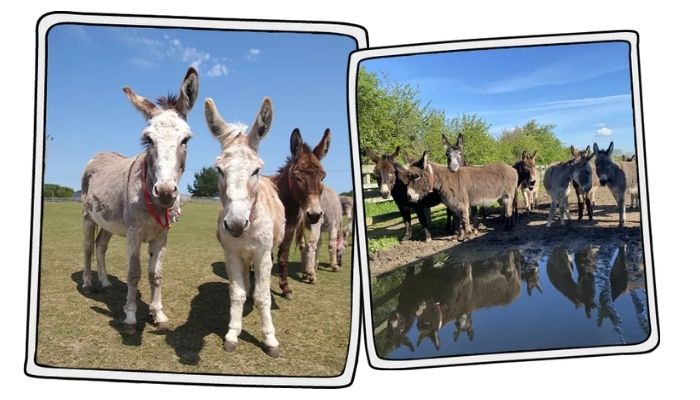 As the Halloween season creeps in, the Isle of Wight Donkey Sanctuary is gearing up for a spooktacular event that's sure to delight the whole family. On the 25th of October, mark your calendars and prepare for Halloween at the Donkey Sanctuary, a day filled with delightful activities that celebrate the spirit of the season.
One of the highlights of this event is the opportunity to book a session for Donkey Grooming. This hands-on experience allows you to bond with these gentle and lovable creatures while giving them some extra love and care. It's an activity that both children and adults can enjoy, and it's bound to create lasting memories.
Halloween at the Donkey Sanctuary promises to be more than just grooming. Get ready to showcase your creativity and Halloween spirit by participating in competitions. Whether it's a costume contest, pumpkin carving, or carrot decorating, there are plenty of ways to let your imagination run wild. Keep an eye out for the release of specific competition timings closer to the event date.
Excitement and surprises await at the lucky dip, where you might just find a treat that brings a smile to your face. Additionally, embark on a Halloween trail that takes you on a fun and mysterious journey through the sanctuary. It's a great way to explore the grounds and enjoy the seasonal decor.
Don't forget to don your best Halloween costume! The event encourages all attendees to come dressed up, whether you want to be a spooky ghost, a friendly witch, or your favourite Halloween character. It's all part of the fun and adds to the festive atmosphere.
Make sure to mark the 25th of October on your calendar and get ready for a day filled with laughter, camaraderie, and, of course, some adorable donkeys. It's an event you won't want to miss!
Fab-Boo-Lous Halloween Fun at Monkey Haven!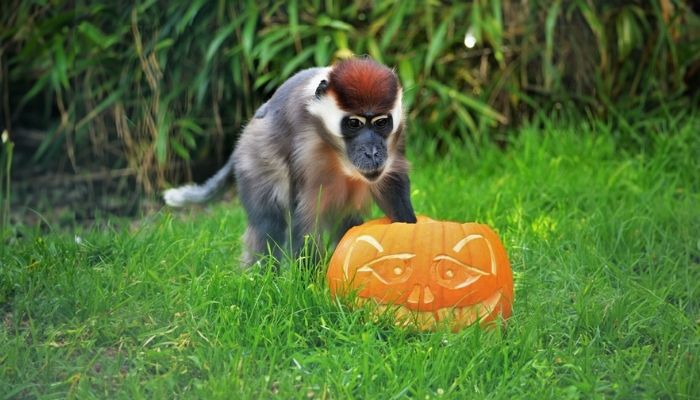 As the air turns crisp and leaves transform into shades of amber and crimson, Monkey Haven on the Isle of Wight is gearing up for a truly fantastic Halloween celebration. From Saturday, October 21st, to Sunday, November 5th, you're invited to partake in a spine-tingling extravaganza that's perfect for the whole family.
Monkey Haven's dedicated team is thrilled to celebrate Halloween, and they can't wait to welcome you for a SPOOK-tacular time during the October half-term. Throughout the day, indulge in FANG-tastic keeper talks where you'll have the chance to learn about intriguing minibeasts, slithering snakes, and majestic owls. These informative sessions are not only captivating but also offer a glimpse into the enchanting world of these creatures.
No Halloween celebration is complete without some creative crafts and delightful treat trails. At Monkey Haven, you'll have the opportunity to unleash your artistic talents and embark on fun, spooky trails. These activities are perfect for the little ones, sparking their creativity and allowing them to indulge in the Halloween spirit.
As the season transitions, Monkey Haven's full week of opening during half term will be your last opportunity before they close for the winter. However, don't fret; they will still be open on weekends during November (Friday through Sunday) to accommodate your visits.
Monkey Haven's Halloween celebration promises a memorable and spooky experience, all while showcasing their love and care for their charming animal residents. Make sure to mark your calendar and embark on a memorable Halloween adventure that's sure to enchant both young and old alike!